Pumpkins are Taking Over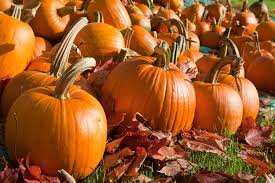 As Fall fast approaches, pumpkin spice takes over many menus. Places like Dunkin' Donuts and Starbucks are selling pumpkin flavored treats.
Pumpkins are a fall treat because they are very frost sensitive, which makes the best time of year to plant them May or late June.  Most pumpkins take 85-125 days to fully mature making them ready for harvest in Fall. This is just in time for  jack o'lanterns, as well as seasonal drinks and foods.  
Planting pumpkins is easier than many people think.   Planting the seeds one to two inches deep is the way to go.  Pumpkins are 80 to 90% water, so the way to water this orange plant is infrequently. Only water when you feel its soil is starting to get dry. When it is, give the plant a good watering.  Make sure to water it on the leaves after or before it is sunny to avoid burning and the plant getting disease.  
Your seed will sprout within seven to ten days.  This is a great time to add additional compost/ soil to keep it moist and healthy. When the plant starts to grow flowers, don't be scared if the first few fall off.  The first blossoms are male (the pumpkins don't grow out of them) their job is to attract bees so they can start a pollination pattern for the females.  
When the pumpkin is ready when orange in color and hard to the touch. If the pumpkin gets indented when you touch it, it is too early to pick.  When it's ready, pick it with shears on the stem.  Try to cut the stem as long as possible.  Now, it's time to enjoy the pumpkin and all the fun possibilities that come along with it.