What is the Walkout?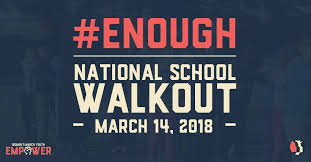 Recently, there has been a buzz in the middle school about the walkout, a protest about the Florida shooting. However, most students seem to not know what the walkout is.
The idea for the walkout started at Midwood High School in Brooklyn, New York, where a concerned junior wanted to effect change in the government. She called for students to walk out of school for 17 minutes to honor the victims of the shooting and to protest government inaction. Now, it is a movement that has spread to schools across the country.
On March 6th, an email was sent by Superintendent Cheryl Champ to notify all middle schoolers about the planned "Walkout."
During the event, students will read short statements about the victims at a school-wide assembly lasting for 17 minutes. There will also be a moment of silence as students offer thoughts and prayers. Student representatives maintain that the event is a "celebration of their lives" and that the event is strictly non-political.
Pelham High School already had a walkout on February 16. It was organized by junior Violet Massie-Vereker. During the High School Walkout, a few students held "gun control" protest signs in front of the High School Entrance. It was a minor event that made local news, but was unknown to the general middle school populace.
The four elementary schools are not participating in the walkout due to varying levels of maturity and awareness of the younger students.
The middle school walkout will take place on March 14th, at 10:00-10:17, during 3rd period.  Parents can opt their children out of the event.