Cakey Chocolate Chip Heart Cookies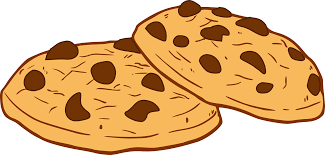 Ingredients:
    2 1/4 cups all-purpose flour
    1/2 tsp. Baking soda
    14 tbsp. Unsalted butter
    3/4 cups granulated sugar
    1/4 cup light brown sugar
    1 tsp. Salt
    2 tsp. Vanilla extract
    2 eggs
    2 cups chocolate chips (Or as many as you want)
INSTRUCTIONS: 
Preheat oven to 350℉

Combine the butter, brown sugar, and white sugar together until fluffy (about ten minutes)

Add the salt, egg, and vanilla to the butter-sugar mixture and beat until well mixed (about one minute)

Add the flour and baking soda and combine

Add however many chocolate chips you'd like and stir until combined

Place dough in the fridge to firm (about ten minutes)

Take dough out of fridge and make heart shape*

Place them on a baking sheet with parchment paper and bake for about ten minutes

Let cool and enjoy!
 Bon Appetit! 
* To make the heart shape, roll out two logs for each cookie. Then place them in a heart shape. They will spread out in the oven and become hearts.