How to Make Your Own Leaf Lantern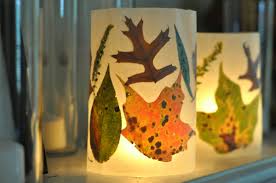 Hang on for a minute...we're trying to find some more stories you might like.
Do you collect leaves each fall? Do you like seasonal crafts? If so, then this activity is for you!
You will need:
pressed leaves (flower petals could also work, if you're willing to experiment)
scissors
waxpaper
embroidery hoop(s)
A hot iron (and ironing board) (Remember to get help from a RESPONSIBLE ADULT with any particularly SHARP or HOT materials!)
Instructions:
Fold the waxpaper in half, then unfold it. Make sure that its length is about the same as the circumference of the embroidery hoop.
Create a pattern on the bottom half of the waxpaper with pressed leaves (remove the stems first). Leave a little room around the edges of the waxpaper as well as the fold, also remember that the front of the lantern will be where the center of the bottom half is now.
Fold the waxpaper in half and position it on the ironing board.
Have an adult use an iron on the folded waxpaper, pressing it until it is one sheet of waxpaper.
Wait for the waxpaper to cool, then roll it into a circle and tape the seam.
Place the waxpaper in the embroidery hoop and adjust the hoop as needed.
Display the lantern, and put a tealight or electric candle in the center.